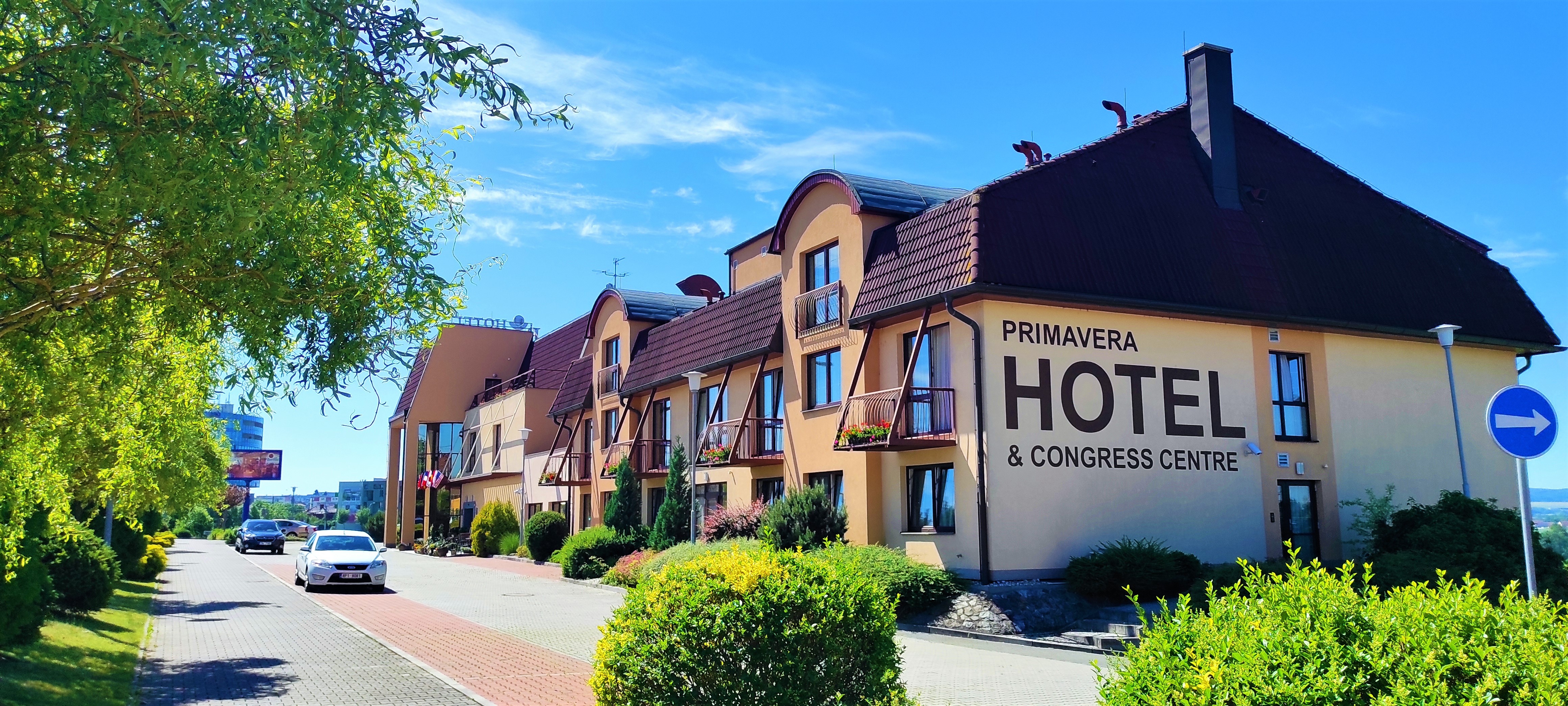 ホテルについて
---
PRIMAVERAホテル&コングレスセンターは、Brucna呼ばピルゼンの静かな、それでも中央部に位置し、モダンで新しい組み込みの4つ星ホテルです。当ホテルは91室あるエアコン全客室で快適な宿泊施設を提供しています。ホテルには、良好な日替わりメニューを提供しています屋外テラスだけでなく、地元や世界各国の料理、さらにワインバー、代表多目的コンベンションセンターとスタイリッシュなレストランを併設しています。
連絡
PRIMAVERA Hotel & Congress centre
Nepomucká 1058/128
326 00 Plzeň
---
GPS:
49°42'38.1"N 13°24'45.4"E
レセプション:
電話 +420 378 020 500
モバイル +420 603 113 853
ファックス +420 378 020 501
郵便 info@primaverahotel.cz
GDSコード
Amadeus: FGPRGPRI
Sabre: FG220483
Galileo: FGA5630
Worldspan: FGPRGP
Pegasus: for information only FGPRGP
1.1.2017 -31.12.2017
Valid for: Mo, Tue, We, Thu, Fr

Price per room and night

Price per room and night

Price per room and night

Room type

1 person in room

2 persons in room

3 persons in room

Standard * * * * First class

1790 CZK

2650 CZK

3310 CZK

Superior * * * * First class

1990 CZK

2950 CZK

3610 CZK

Room type

Price per room and night

Suite * * * * First class

3500 CZK

max. 2 adults

Family Suite Junior * * * * First class

3700 CZK

max. 2 adults and 2 children up to 5 years

Apartment * * * * First class

5900 CZK

max. 4 adults

1.1.2017 -31.12.2017
Valid for: 1 night (Sa / So) - prices after discount 20%

Price per room and night

Price per room and night

Price per room and night

Room type

1 person in room

2 persons in room

3 persons in room

Standard * * * * First class

1440 CZK

2120 CZK

2650 CZK

Superior * * * * First class

1600 CZK

2360 CZK

2890 CZK

Room type

Price per room and night

Suite * * * * First class

2800 CZK

max. 2 adults

Family Suite Junior * * * * First class

2960 CZK

max. 2 adults and 2 children up to 5 years

Apartment * * * * First class

4720 CZK

max. 4 adults

1.1.2017 -31.12.2017
Valid for: min 2 nights(Fr-So / Sa-Mo) - prices after discount 25%

Price per room and night

Price per room and night

Price per room and night

Room type

1 person in room

2 persons in room

3 persons in room

Standard * * * * First class

1350 CZK

2000 CZK

2500 CZK

Superior * * * * First class

1500 CZK

2250 CZK

2750 CZK

Room type

Price per room and night

Suite * * * * First class

2650 CZK

max. 2 adults

Family Suite Junior * * * * First class

2800 CZK

max. 2 adults and 2 children up to 5 years

Apartment * * * * First class

4450 CZK

max. 4 adults
| | |
| --- | --- |
| Other prices | Preis per night |
| Dog | 250 CZK |
| Baby bed | 150 CZK |
| Car park | free of charge |
| WiFi | free of charge |
Prices in CZK. Indicated rates in Euro will be adjusted to the exchange rate of the day of arrival. Rates are subject to change without prior notice.
All prices are per room and night and include buffet breakfast, service charge and all taxes (V.A.T. and city tax), car park and WiFi.
Special prices for groups and long-term stays.
We accept the following credit cards: Amex, Diners Club, JCB, Visa, Maestro, Mastercard
Extra bed is free of charge for a child up to 5 years old if sharing room with 2 paying guests. Baby beds (cots) are for the fee above at disposal.
Dogs are permitted (in some rooms reserved to this purpose).
Reservations are held until 6:00 p.m. unless the hotel has been notified of late arrival and a deposit or a credit card number have been received.
Check-in: 1:00 p.m. / Check-out: 10:00 a.m.